Geometric Shapes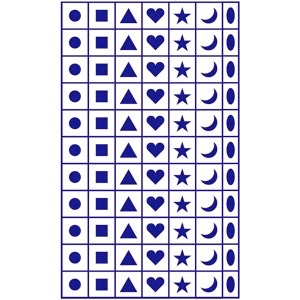 Default Manufacturer
Rub N Etch stencil.... circle, square, triangle, heart, star, moon, oval shapes
20-0453
20-0453
View Offer
Armour Products
https://www.armourproducts.com/Item/20-0453
Christmas Closing: We will be closed from December 23, 2021 to January 2, 2022 and reopening January 3, 2022
Geometric Shapes
Geometric Shapes
Style #:20-0453
A wholesale account is required to purchase on ArmourProducts.com.
Use the buttons below to login to an account, or to request an account.
OR Non Wholesale Customers Can purchase at
Geometric Shape Stencil Designs and Sizes: width x height
Circle 5/16" dia
Square 5/16" x 5/16"
Triangle 7/16" x 3/8"
Heart 1/2" x 3/8"
Star 5/16" x 5/16"
Moon 7/16" x 7/16"
Oval 1/4" x 7/16"
Denotes exclusion from all discount offers. Discount codes are not applicable on excluded items.