10 oz Armour Etch Glass Etching Cream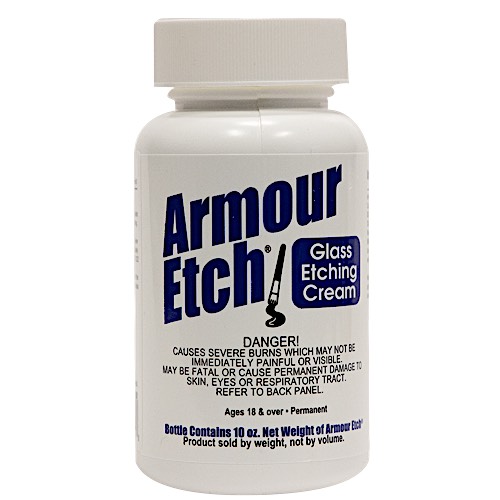 Default Manufacturer
Armour Etch is a fast acting specially formulated glass etching compound that lets you create permanent etched designs on windows mirrors and household glassware. Create your own custom glass etching stencil or use one of our pre-cut stencils. This unique glass etching system enables anyone to personalize and decorate glass or mirrors in minutes with no previous experience. Try it you will love it
15-0200
15-0200
View Offer
Armour Products
https://www.armourproducts.com/Item/15-0200
10 oz Armour Etch Glass Etching Cream
10 oz Armour Etch Glass Etching Cream
Style #:15-0200
A wholesale account is required to purchase on ArmourProducts.com.
Use the buttons below to login to an account, or to request an account.
OR Non Wholesale Customers Can purchase at
******Please note that there was a typographical error in our latest email stating that the Bottle of Armour Etch was 12oz. The correct volume in each bottle is 10oz. ******
Armour Etch is a fast acting specially formulated glass etching compound that lets you create permanent etched designs on windows, mirrors and household glassware.
Create your own custom glass etching stencil or use one of our pre-cut stencils. This unique glass etching system enables anyone to personalize and decorate glass or mirrors in minutes with no previous experience.
Not intended for use by children
Will not etch plastics or some Pyrex
Not recommended for etching large areas of glass over one inch by one inch
Denotes exclusion from all discount offers. Discount codes are not applicable on excluded items.