Wedding Months & Date Sheet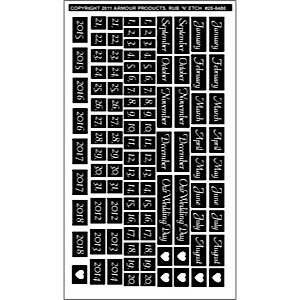 Default Manufacturer
Our Wedding Day/ Dates: All are 1/4"h Our Wedding Day: 1 3/4" L
20-0480
20-0480
View Offer
Armour Products
https://www.armourproducts.com/Item/20-0480
Wedding Months & Date Sheet
Wedding Months & Date Sheet
Style #:20-0480
A wholesale account is required to purchase on ArmourProducts.com.
Use the buttons below to login to an account, or to request an account.
OR Non Wholesale Customers Can purchase at
Our Wedding Day / Dates: All are 1/4"h
Our Wedding Day: 1 3/4" L
It is not shown, but Years go up to 2025....