Seasons Greetings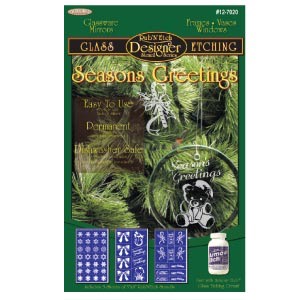 ARMOUR ND
Enjoy the Holiday Season all year long. This package includes individual stencils part numbers 20-0482 20-0483 & 20-0484
12-7020
12-7020
View Offer
Armour Products
https://www.armourproducts.com/Item/12-7020
Seasons Greetings
Seasons Greetings
Style #:12-7020
A wholesale account is required to purchase on ArmourProducts.com.
Use the buttons below to login to an account, or to request an account.
OR Non Wholesale Customers Can purchase at
Enjoy the Holiday Season all year long. We have included the most popular stencil designs that will bring joy to everyone who sees them. Give a festive look to your glass candle holders, holiday ornaments, photo frames for gift giving, and your favorite beverage glasses. Check out all those beautiful snowflakes......they make any project a Happy Holiday.
Sizes for stencil artwork can be found by clicking on the individual stencil sheet part number in the You Might Also Like ... section (see below). This package includes individual stencil part numbers 20-0482, 20-0483 & 20-0484.
Denotes exclusion from all discount offers. Discount codes are not applicable on excluded items.