Script Full Alphabet with numbers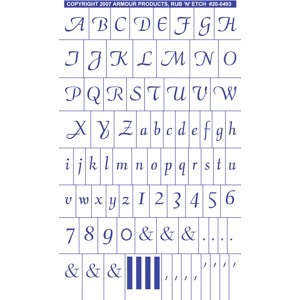 Default Manufacturer
Sizes are approximate <BR />Upper Case - 3/8" to .5"h<br /> Lower Case 1/4" to 3/8" "h<br /> Numbers- 0.5" h
20-0493
20-0493
View Offer
Armour Products
https://www.armourproducts.com/Item/20-0493
Script Full Alphabet with numbers
Script Full Alphabet with numbers
Style #:20-0493
A wholesale account is required to purchase on ArmourProducts.com.
Use the buttons below to login to an account, or to request an account.
OR Non Wholesale Customers Can purchase at
Sizes are approximate
Upper Case: 3/8" to .5"h
Lower Case 1/4" to 3/8" h
Numbers: 0.5" h
Also available in a set. See 12-7032 in You Might Also Like ... below.