Musical Notes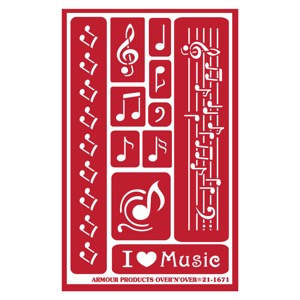 Default Manufacturer
By popular demand we are offering our over n over stencil material in 5x8 sheets for custom stencil use. Just like out pre-cut line of over n over stencils, your designs can be used multiple times. pens, pencil and markers all work on the material for tracing out your pattern..
21-1671
21-1671
View Offer
Armour Products
https://www.armourproducts.com/Item/21-1671
Musical Notes
Musical Notes
Style #:21-1671
A wholesale account is required to purchase on ArmourProducts.com.
Use the buttons below to login to an account, or to request an account.
OR Non Wholesale Customers Can purchase at
Do, Re, Mi......Fa, La, La, La, La
Musical notes will bring music to your glassware.
Sizes are approximate..... width x height
Large Border of Notes: 6.0" x 1.25"
Clef Note: .625"x 1.5"
Large Note: .375" x 1.5"
I Love Music: 2.75" x 0.50"
Double Note Border: 7.0" x 0.5"
View Over N Over Instructions
Related Projects