Rose Designs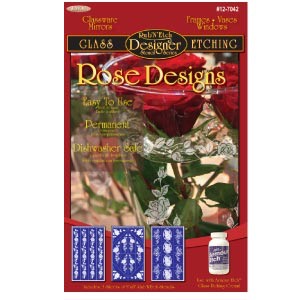 ARMOUR ND
The Rose is natures most elegant flower. We have included such a great assortment of long stemmed roses rose corners rose ovals borders and accents that it will be difficult for you to choose your favorite. These delicate designs are just perfect for decorating that stylish flower vase or how about taking those plain champagne glasses and add a bit of romance by etching long stemmed roses on them for that special evening. Sizes for stencil artwork can be found by clicking on the individual stenicl sheet part number below in Related Products section (see below). This package includes individual stencils part numbers 20-0474 20-0475 & 20-0476
12-7042
12-7042
View Offer
Armour Products
https://www.armourproducts.com/Item/12-7042
Rose Designs
Rose Designs
Style #:12-7042
A wholesale account is required to purchase on ArmourProducts.com.
Use the buttons below to login to an account, or to request an account.
OR Non Wholesale Customers Can purchase at
The Rose is nature's most elegant flower. We have included such a great assortment of long stemmed roses, rose corners, rose ovals, borders and accents, that it will be difficult for you to choose your favorite. These delicate designs are just perfect for decorating that stylish flower vase, or how about taking those plain champagne glasses and add a bit of romance by etching long stemmed roses on them for that special evening.
Sizes for stencil artwork can be found by clicking on the individual stencil sheet part number in the You Might Also Like ... section (see below). This package includes individual stencil part numbers 20-0474, 20-0475 & 20-0476.
Denotes exclusion from all discount offers. Discount codes are not applicable on excluded items.