Mother Father sheet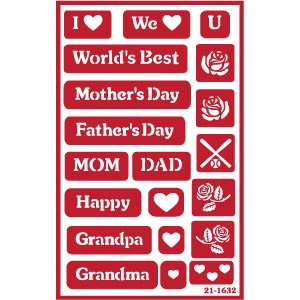 Default Manufacturer
Mom,Dad,Mother,Father,Grandpa,Grandma,World's Best,Over,n,Over,Stencils
21-1632
21-1632
View Offer
Armour Products
https://www.armourproducts.com/Item/21-1632
Mother Father sheet
Mother Father sheet
Style #:21-1632
A wholesale account is required to purchase on ArmourProducts.com.
Use the buttons below to login to an account, or to request an account.
OR Non Wholesale Customers Can purchase at
Mother/Father assortment: Mom, Dad, Mother, Father, Grandma, Grandpa & more
Use them in combinations to create one of a kind glassware. Why spend money on decorated glasses when you can do it yourself more economically.
I (heart): .375" x .750"
We (heart): .375" x 1.25"
U: .375" x .375"
World's Best, Mothers Day, Father's Day: .375" x 2.75"
MOM, DAD, Happy: .375" x 1.25"
Grandpa: .375" x 1.75"
Grandma: .375" x 2.0"
Assorted: approx 1" x 1"
View Over N Over Instructions
Related Projects