Assorted Holidays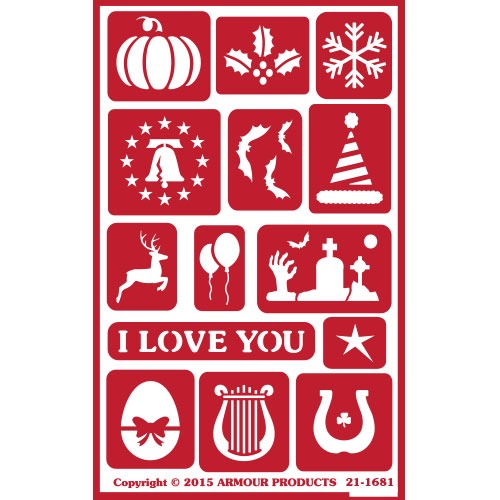 Default Manufacturer
,Valentines,Love,hearts,lips,Over,n,Over,Stencils
21-1681
21-1681
View Offer
Armour Products
https://www.armourproducts.com/Item/21-1681
Assorted Holidays
Assorted Holidays
Style #:21-1681
A wholesale account is required to purchase on ArmourProducts.com.
Use the buttons below to login to an account, or to request an account.
OR Non Wholesale Customers Can purchase at
Christmas, Valentine's Day, Easter, St Patrick's Day, Patriotic, Birthdays, Halloween
Use them in combinations to create one of a kind glassware. This sheet has a wide variety of special holidays. Combine them with our other holiday stencils.
Sizes are approximate ... width x height
Pumpkin: 1.25" x 1.25"
Snowflake: 1.0" x 1.0"
Liberty Bell: 1.5" x 1.5"
Bats: 1.0" x 1.25"
Balloons: 0.75" x 1.25"
I LOVE YOU: 3" x .25"
Cemetery: 1.75" x 1.125 "
Easter Egg: 1.0" x 1.25"
Harp: 1.0" x 1.25"
View Over N Over Instructions
Related Projects