ETCH or SANDETCH stencil Sqr-Crl-Tri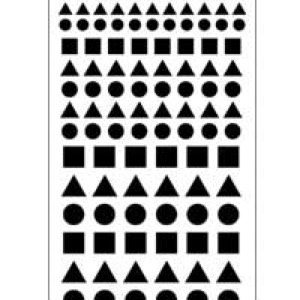 Default Manufacturer
ETCH WITH IT.....DIP INTO ETCH BATH.....SAND ETCH or SANDBLAST WITH IT These single-use 4 mil adhesive backed etching stencils have been designed to be sandblasted with a any of the sandblasters we carry. Plus this stencil works great with Etch Bath glass dipping solution to create small accents of opened clear areas while the background of the glass it completely frosted. Just place the stencil shapes randomly on the glass then dip the project into the Etch Bath solution for those one of a kind gifts Each stencil sheet measures 5 x 8 and includes complete instructions.
19-2702
19-2702
View Offer
Armour Products
https://www.armourproducts.com/Item/19-2702
ETCH or SANDETCH stencil Sqr-Crl-Tri
ETCH or SANDETCH stencil Sqr-Crl-Tri
Style #:19-2702
A wholesale account is required to purchase on ArmourProducts.com.
Use the buttons below to login to an account, or to request an account.
OR Non Wholesale Customers Can purchase at
ETCH WITH IT.....DIP INTO ETCH BATH.....SAND ETCH or SANDBLAST WITH IT ... USE as a STICKER

These single-use 4 mil adhesive backed etching stencils have been designed to be sandblasted with a any of the sandblasters we carry.

Plus,this stencil works great with Etch Bath glass dipping solution to create small accents of opened clear areas while the background of the glass it completely frosted. Just place the stencil shapes randomly on the glass, then dip the project into the Etch Bath solution for those one of a kind gifts. Can also be used as stickers, as is.

Each stencil sheet measures 5.5" x 8.5" and includes complete instructions.

approx sizes of individual stencils: from 0.25 inch to 0.5 inch depending on how you select your pattern