Glass Engraving Patterns (PDF DOWNLOAD)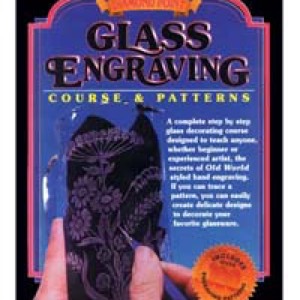 ARMOUR ND
Learn the art of diamond point glass engraving with easy to read illustrated step-by-step instruction book containing lots of "how-to" and finished project photos to stimulate your creativity. Choose from over 100 engraving patterns and designs! Includes: The History of Glass Engraving Types of Glass Proper Lighting The Right Diamond Point for the job and other helpful hints. Plus "Technique Sheets" which enable you to trace each of the 3 steps directly onto the glass using the proper diamond point and correct technique.
D-14-0850-2
D-14-0850-2
View Offer
Armour Products
https://www.armourproducts.com/Item/D-14-0850-2
Glass Engraving Patterns (PDF DOWNLOAD)
Glass Engraving Patterns (PDF DOWNLOAD)
Style #:D-14-0850-2
A wholesale account is required to purchase on ArmourProducts.com.
Use the buttons below to login to an account, or to request an account.
OR Non Wholesale Customers Can purchase at
This is a PDF Download Book
You will receive a download link

This link will only be good for three days from the confirmation of your order.
Should you experience difficulty with this download, please contact our customer service department and supply them with your order number (or confirmation number).

Four pages containing technique sheets. Learn how to do General Engraving, Ground-Coloring, Stippling, Larding or Ornamenting.

Over 100 specially designed tracing patterns to be used with Diamond Engraving tips. These special designs illustrate where and how to achieve professional engraved results. Simply place the designs under the glass and engrave with the Diamond Tips to reproduce the selected pattern.

Florals, Fruit, Roses, Bouquets, Borders, Butterflies, Birds, Insects, Wildlife and one Ornate Alphabet.

VERY IMPORTANT: Engraved glass should always be HAND WASHED. Never put an engraved item into the dishwasher as it will break under the pressure of the dishwasher's water.